1 February, 2021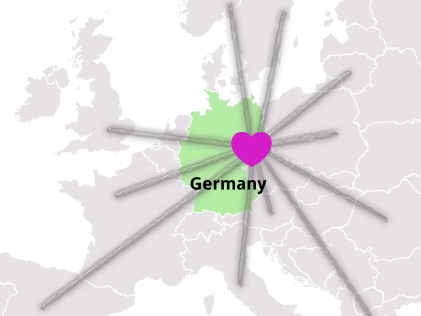 Rethink
Brexit has caused a lot of companies to rethink their strategy of how and where they are going to do business. The European Common Market offers advantages such as size or trade without barriers, and to service that market it can be advantageous to have a business unit (BU) within it.
Moving to Europe
Setting up a BU or even moving the HQ can be at first sight a monumental undertaking: Topics such as language, culture, 'where do you start?' pop up. However with an experienced local partner at hand, the 'birth' can be facilitated faster, efficiently and with less pain.
Our team in Germany, Silicon Vales
Why not Germany as your doorway to Europe? It is easy to reach per air and it is in the heart of Europe.
SensiOffice has an experienced team in the Silicon Vales area, in the German capital Berlin.
Why Silicon Vales?
Expertise: Well qualified english speaking personnel.
Stable cultural environment.
Easy access via air - Fly in and out during the day.
Logistics: Easy access to one to the largest German freight hubs and multiple providers and fulfillment.
Getting things done: German team efficiency.
For your world class support: Integrate multi-european language native speakers.
Personal networking: The Powerhouse of Europe - The possibility of networking with other high profile CEOs.
Innovation - One of the fastest growing startup areas in Europe.
Manufacturing - Access to a vast spectrum of manufacturers - from mechanical luxury watches to software powered services, from hand finished music instruments to robotic manufacturing.
Have fun after work: Excellent quality of living, metropolitan cultural cities, long sommer days, lakes, woods, cycle paths, great beer and people - You won't want to go back:-)
Our experience - your advantage
Our Silicon Vales team members have been living in Germany for several years, speak fluent English and German, have management experience. The team is well networked to other well qualified professionals in the area and nationwide.
Some of the activities where the team can support you are:
As a thinktank, sparing partner, consultant
Company formation, the setting up of a physical/virtual office, telephone, etc.
Scouting - Finding partners, employees, headhunting, interviewing
Coordination, Project Management
Interims Management
IT services, technical integration
Get things going
If you have any questions, give us a call.
Call us
UK: 0121 400 1181
US: +1 650 252 1270
AU: +61 2 8015 6891
Germany: 030 2238 1299
International: +49 30 2238 1299
Or drop us a line: